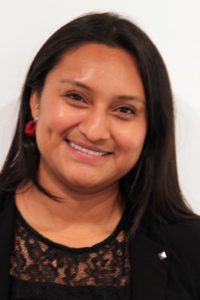 Rosa De León Palomo was born and raised in Torreón Coahuila México. She is the youngest of six children and a first generation high school and college graduate.
For over 10 years, Rosa organized parents, students, and community with Californians for Justice (CFJ), a powerful statewide force advocating for meaningful reforms to public education at the state level and in local schools.  She began this work as a student leader and eventually became the Lead Organizer of the San Jose region.
Some of the victories achieved through her time with CFJ include: creating the first Bilingual Certification program in the state; making college-prep courses available for low-income students of color in the East Side Union High School District; and, the implementation of Participatory Budgeting (PB) at Overfelt high school in East San Jose, the first school based PB model in California and the largest in the nation.
Currently, Rosa serves as the Deferred Action Program Manager with Sacred Heart Community Service in San Jose. In this role, she leads a team of staff and volunteers in efforts to inform and prepare the undocumented immigrant community in Santa Clara County for deferred action. In addition, she also provides technical support for community groups across the county who are leading similar efforts.
Rosa joined the Friends of Human Relations Board in 2014 and is active on the McEntee Legacy Scholarship Committee. She is driven by her passion to support first generation college students achieve their goal of obtaining their Bachelor's degree, especially those who are undocumented like her. Rosa holds a B.A. in Sociology from the University of California Berkeley.