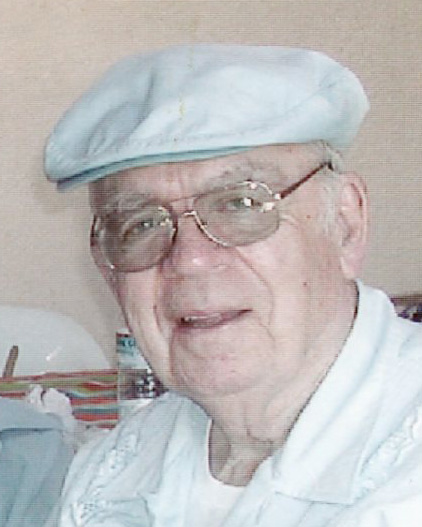 Jim McEntee was a true leader, with a consistent track record of ethical and principled actions. Fully capable and forward-thinking, Jim planned for both the long-term and short-term implications of a plan. He showed a natural sense of direction. His enthusiasm, energy, and positivity inspired confidence and excitement to our community.
With the single mission of bridging cultural similarity in our Santa Clara county, Jim brought community and family to the forefront of our local agenda. He valued healthy family environments where individuals practice their traditional culture while also learning new rules and regulations. By providing support, leadership, and service, he brought the vision of this communal experience to life. Under his leadership, we grew in diversity with a variety of community services, realizing that differences and distinctions are often a strength of individual members. Finally, we keep in mind the following: The social and political problems of our times cannot be resolved when we all think of ourselves solely as victims, or of our view of the world as properly privileged, or of the need to understand others as dispensable.
Jim McEntee: 1931-2004
Peace and the protection of human and civil rights will always be a challenge, particularly in a community as culturally diverse as Santa Clara County. Jim McEntee was our mentor and role model for achieving a community of peace, respect and humanity.
Jim was born April 9, 1931 in Oakland, CA to Irish immigrant parents.
He was an ordained Roman Catholic priest who served the community of Morgan Hill where he worked with migrant farm workers to improve working conditions, housing, and access to medical services. He also worked closely with Cesar Chavez and the United Farm Workers movement.
In 1973, Jim left the active priesthood and married Ann. Together they raised a multicultural family of nine children in East San Jose.
In 1976, Jim became Director of the Office of Human Relations (OHR) for the County of Santa Clara and served in that capacity for 27 years until his retirement in 2003. As the Director of OHR, Jim became known far and wide as the peacekeeper of Santa Clara County. During his tenure Jim had a tremendous impact on life in this valley by helping to bridge diverse communities, promoting peace, social justice, and protecting the civil and human rights of all county residents, including education and advocacy in the larger community on behalf of the county's immigrant communities. Jim was a staunch advocate for the less fortunate and disenfranchised in the community and he was often called upon to use his skills in conflict resolution to restore peace and to rebuild relationships in the community.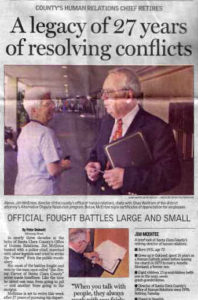 Upon Jim's retirement, the San Jose Mercury News published an article about his career:: A Legacy of 27 Years of Resolving Conflicts: Official Fought Battles Large and Small.
 Almost every human services non-profit organization in this county has been touched by Jim's leadership. Among the organizations that Jim helped found are the Second Harvest Food Bank, the Emergency Housing Consortium, and the Asian Law Alliance. Some of the projects he helped to start include the Community Store in San Martin, the Village Avante Housing Project in Morgan Hill and the South County Transportation Association that provided bus services for underserved residents in South County to Valley Medical Center, CET training programs, and Head Start programs.
In the Office of Human Relations, Jim led the move to create the Network for a Hate Free Community, and the Dispute Resolution Program. He also assumed responsibility for the Youth Task Force and the Commission on the Status of Women to ensure a strong voice for youth and women in our community. Jim's leadership and support of the Human Relations Commission helped to bring life and meaning to its mission and made it one of the most important and most accessible commissions in the county.
For almost 30 years, Jim McEntee lead the Office of Human Relations of Santa Clara County in sowing seeds of peace and non-violence. We as a community continue to reap the benefits of his work and we recognize that his vision will continue to influence generations to come.
It has often been said that we reap what we sow. Let us continue building a community where all people are accepted, treated with respect, and where we can live in peace.
Tributes to Jim McEntee